So, you're a first time mama-to-be working on your registry? Congrats, what an exciting time for you! If you're anything like me you want to save money, do as little harm to the environment as possible and get the essentials you need without overfilling your home with unneeded things. Phew. That's a lot of pressure. With so much advice and product placement out there, I wanted to share with you some of my favorite decisions when it comes to baby and its things. It is possible to cut through the noise and decide what is best for you! Below is what we decided would work best for us.
We are graciously accepting all gender neutral hand me downs. This is a great way to save money and cut down on registry items.

We have accepted the fact that it is expensive to do all things organic and are instead choosing to focus on a few essentials which we think are worth spending more money on. All other items on our registry are as non-toxic and natural as possible.

We chose to register with Amazon.com. Their universal registry option allows you to add items from anywhere. Plus, Amazon has lots of great deals and choices.
Baby Feeding Necessities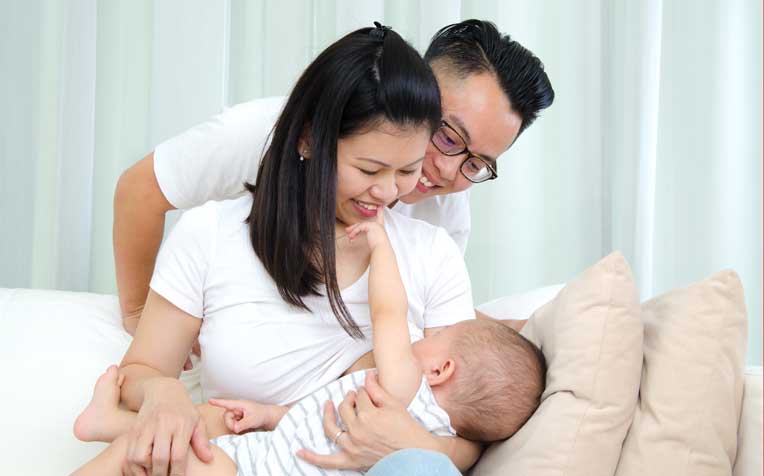 Breast Pump – Did you know that your health insurance may cover your very expensive breast pump? I am so thankful for my mama friends who let me know about this. You can call your insurance directly to see if you are covered. I used this website to choose a breast pump that fit my lifestyle. Based on the frequency you would like to be pumping as well as the speed of pumping needed, you can choose a breast pump that works best for you. This company called my insurance and pre-qualified me all on their own! All I had to do was pick one, fill out a request form online, and I had a free breast pump mailed to my house!
Medela Breast Milk Feeding Gift Set – since I chose the Medela breast pump due to it's convenience, we opted for the Medela feeding gift set which includes storage bottles, feeding bottles, slow flow lids, one clean micro steam bag and some great storage bags. You never know which bottle your baby will prefer. We will start with these gift set bottles and adjust as needed. 
Boppy Nursing Pillow and Positioner – this is great for comfort while you breast or bottle feed your baby. So many cute covers to choose from! Some babies also hang out and do tummy time on these. 
Nursing Breastfeeding Cover Scarf – this doubles as a grocery cart or car seat cover, which is a convenient money saver. Lots of great design options.
Baby Clothes
No need to spend a ton of money on these, I have a feeling your family and friends will be giving you lots of cute onesies as soon as they find out you're expecting. 
My advice is to find some great brands that make all cotton onesies, footed pajamas and hats, socks and a few fun "going out" outfits and register for those! We registered for the following items in each size up to get us through the first year. 
4 Baby Footed Pajamas – With footed outfits, you are saving on socks. And let's get real – the baby sleeps so much at first, they can wear pajamas 80 percent of the time, if not more.
4 Short Sleeved Shirts with Side Snaps – These are amazing for dressing as they do not have to go over baby's head.
4 Pairs of Footed Pants – Again, just as with the footed pajamas, we are saving on those socks! 
8 really cute all-cotton onesies -Be creative here. We opted for some with our favorite bands or activities in the front. 
1 Burt's Bees organic cotton wearable blanket – This will be helpful and safe post swaddle stage. 
1 appropriately sized fall/winter suit – To keep the little one warm
1 dress up outfit -I kept this minimal knowing that we will probably get extras from friends and family.
Baby Diapering
To cloth or not to cloth? That is the question.There are many environmental benefits to using cloth diapers. Additionally, they are a real money saver in comparison to disposable diapers. In fact, you can buy cloth diapers that last your little one up to three years! However, you are still leaving a footprint on this planet no matter which option you choose. If you go with cloth diapers, you are using a lot of water to wash them. Some people also opt in for a laundry service which of course uses water and has a car which comes and picks up the diapers for you. So, of course, there's the car's impact on the environment to consider.
My husband and I decided to go ahead and try the cloth option to save money and at least try to reduce our impact on mama Earth. We registered for two different kinds of cloth diapers to explore and feel out which would work best for our baby. 
Mama Koala One Size Washable Reusable Pocket Cloth Diapers
Nora's Nursery Cloth Pocket Diapers
Planet Wise Hanging Wet/Dry Bag – We decided to try and do our own laundry, since there will be so much of it to do anyway. This bag will be great to help store dirty and clean diapers in the laundry room. 
Biodegradable one time use diapers – Sometimes newborns can be too small for cloth diapers (they usually have a size limit), so these seemed like a great idea to have for the first week of the babe's life. We will also try these biodegradable diapers on the go; when we are traveling or taking our baby out of the house they may be easier than sticking with cloth.
Liname Premium Diaper Bag – This bag is simple, gender neutral, and will be great to take with me on the go. Please check in with you husband/partner here if they would like their own or if they are cool carrying yours:). 
My hope is that whatever choice you make that it is the best choice for you and your lifestyle. We have chosen this route to try and harm the environment a bit less, maybe you choose something else to focus on when it comes to being good to mama earth. No judgement here. The best thing we can do as mamas is do research, pick wisely, know that we may change our minds, and most importantly – be good to ourselves and each other!
Baby Bathing and Skin Care
This was a big one for me when it comes to being as free of chemicals as possible. I remember getting crazy allergies as a kid when I moved to the United States and switched from simple clean soap products to what my parents thought were fancy shower gels and shampoos. I would make my own shampoo, lotion, and soap if I had the time, but as a busy mom I opted in for these instead:
Burt's Bees Baby Nourishing Lotion
Kirkland's (Costco Brand) Organic Virgin Coconut Oil – this is all natural and great to moisturize the baby. We live in Colorado, so it gets especially dry here and coconut oil has always been my friend.
Honest Shampoo and Body Wash – This is a two in one product which saves money and it's plant based and hypoallergenic.
7th Generation Baby Wipes – These are free of alcohol, parabens, fragrance and phenoxyethanol. 
One thing to remember is that what you wash baby clothes, diapers, and sheets with is what's really important. You can purchase all sorts of organic clothes and sheets, but if you wash them with harsh detergents, all that extra money you (or your friends and family) spent will go out the window. 
Kirkland's (Costco brand) Environmental Responsible Ultra Clean Laundry detergent– this detergent has a biodegradable formula, is gentle on skin, includes naturally derived cleaning ingredients and has no dyes, optical brighteners, phosphates or chlorine. I'm sure this is not an ALL natural choice but it is better than most out there. You can save money and time on purchasing it in a large container and rest assured that it will be safe on your baby's skin.
Baby Sleeps
After looking at about a million baby cribs, I decided to go for one that made the most sense for our family: 
Graco Remi 4 in one Convertible Crib and Changer – Made out of pine wood and composite and has non toxic finishes. This was important since kids have their faces (and mouths) all over the rails when they get older. We don't have a ton of room in our nursery since it also houses a futon for guests (or a parent) to sleep in. So, the attached changing table will save us some space. Additionally all the storage this crib features (including a drawer underneath the crib) will be very helpful.
Milliard Memory Foam crib mattress – This middle of the road mattress is completely non-toxic and comes with a soft bamboo cover.
Organic cotton mattress cover  – Always great to have an extra!  
Cotton crib sheets – Order a few to keep the baby dry.
There are so many opinions about how to swaddle and more importantly what to swaddle with! We registered for one of each recommendations we received from friends to see what our baby is going to like. Once we figure it out we will stick with that.
Simple baby swaddle blankets – Made out of bamboo and cotton, these are gentle on skin and eco-friendly. They can also be used as burp cloths or a nursing cover, so I figured it will be worth the money to register for a couple of different sizes.
A Halo sleep sack – 100% cotton, this has adjustable fasteners and also converts to a wearable blanket once the baby does not need to be swaddled.
Woombie Convertible Swaddle Blanket – This is for kiddos who like to get out of all swaddles – apparently they exist! It has a zipper that helps the baby stay comfortable and in place.
Baby Stroller and Car Seat
This rabbit hole is deep. I spent a few weeks researching really beautiful strollers made out of recycled plastic, and then realized that they weren't practical or affordable for our family. If they are for you, please use them – the choices are plentiful and amazing!
Another thing to consider when it comes to strollers is your lifestyle. Will you be traveling a lot? Are you going to want to take the stroller trail jogging through the park? Do you live in an urban or suburban environment? How much will you actually be using the stroller?
Chicco Activ3 Jogging Stroller – As an active family we decided to go with this stroller. It is great for the park and for light jogging. It is moderately light weight and is easy to take "off roading" if we so desire. It will fit our car seat, which was important to us as well!
Chicco Keyfit 30 Infant Car Seat – This will click in and out of the car and go into the stroller as needed. It is a higher price range, but is one of the best when it comes to safety.
Chicco Viaro Travel System – if you do not need a full blown jogger but would like a great lightweight option to maneuver around the park with, I recommend this system. You will also save quite a bit of money by purchasing a travel system rather than purchasing a stroller and car seat separately. These travel systems are great for the infancy stage.
When you make a choice to purchase an infant car seat, please know that you will be purchasing another safe car seat sometime in the future when your baby grows out of the infancy stage. We were ok with this out of convenience. I know some people will register for both sized car seats right away. Just make sure to pick a car seat that meets all regulatory safety standards and I recommend getting a baby backseat mirror for the car to keep an eye on your little one.
Pockit LightWeight Stroller – this will be great when we travel and our kiddo turns 6 months old. It is small, light and convenient. 
Other Lifestyle Baby Purchases
We are a family that likes to be outside and on the go. So, these next few items, though not a necessity, are something that we hope will make our life a little easier as we bring a little one along with us for the ride.
Phil and Ted's Portable Travel Crib – a lot of hotels will have a crib available for use. But, when we travel we may stay with friends or at an Airbnb where a crib won't be as available. This one is great because it is as light as they get – 7 pounds! Additionally, this travel crib doubles as a play yard, so you can easily bring it to someone's house and keep your child occupied as it plays or sleeps.
Osprey Baby Back Pack – this is reasonably priced, has lots of storage and is height adjustable which your back will thank you for.
Little Frog Baby Wrap – wraps are great for baby wearing when you're on the go or just trying to get stuff done around the house. Baby wearing has been shown to help with your child's development, coping and socializing skills and it helps parent/child bonding. We received this one as a gift and have had a few trial runs with it. It is simple, 100 percent cotton and the baby's weight is evenly distributed when you wear it.
Ergo Baby 360 Baby Carrier – made out of baby safe materials, this carrier is different than a wrap as it is more structured. It keeps the baby in a natural M position, so can be used after the baby is about 12 pounds. While wraps resemble a womb-like comfort for newborns and baby to nurse and feel safe in, the carrier can be used for a babe who is ready to explore the world and explore the world around them. You can face the child in towards you to nurse or away from you so they can look around. The carrier's structure also allows for an easier time while hiking, which we do quite a bit of. We decided that having both, the wrap and the Ergo, would be ideal for our family and we can switch off based on age and our activity level.
BabyBjorn Bouncer Balance Soft –  this is baby safe and ergonomic. We wanted to start by not having anything that was battery operated and bounced rhythmically. I would love for the baby to be soothed by it's own movements and rocking. We will see how it goes.
Thank you for reading! I will be updating this as we start using some of these items more and would love to hear how things go for you and your baby!
*As an Amazon Associate I earn from qualifying purchases. I stand by each one of my recommendations as they are something I personally plan to use and am excited about!